2. How computers are organized
Bow before me for I am root
2.1. Review
In the last chapter, you were introduced to what makes your computer and what an operating system is. You know that we're focussing on the essential components: CPU, memory, hard disk and keyboard.
2.1.1. Test questions
What operating system are you running? Be specific!
Which device stores your data?
What's the difference between Unix and Linux?
2.1.2. Introduction
If you ever used a computer, you've surely come across files and very likely also folders (also called directories). That's no coincidence but these are the most fundamental concepts of a computer. Everything stored on a computer or other electronic system is organized with files and directories.
Generally speaking, a file holds some data we want to store now and access somewhen later on. We could store all of our files in the same place but that would be a horrible mess. You'd have to remember all file names you've ever used in order to find your specific file again. When searching for a file, you'd have to scroll through thousands of files before you find yours. So that's why we organize files in directories. With this, we can seperate documents from videos, images, applications or system files by putting them in respective folders.
We start by introducing how files and directories are organized, in a general manner. You'll learn the purpose of paths and how to write them. And put theory to practice with your first steps on the terminal.
2.2. Roots and Trees
In unix systems (like Linux), the topmost directory is called the root. As each directory, it contains some more (sub)directories and files. Computer engineers like to have metaphors for terms they use, to the file structure is usually depicted as a tree.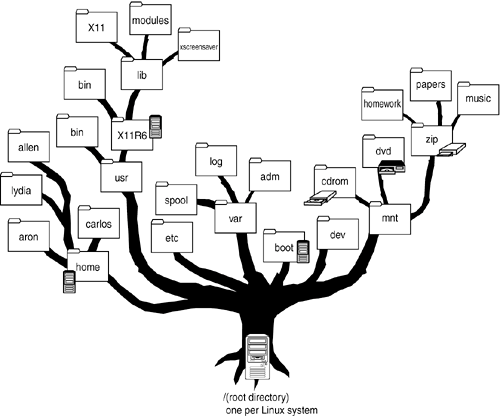 Like this, the root directory really is the root of the tree from which everything grows. Each directory creates a new branch, like you see in the picture. But because computer engineers are funny guys, usually the file tree is displayed upside-down, with the root directory on top . Each block is a directory and on the bottom you see some files as text without borders.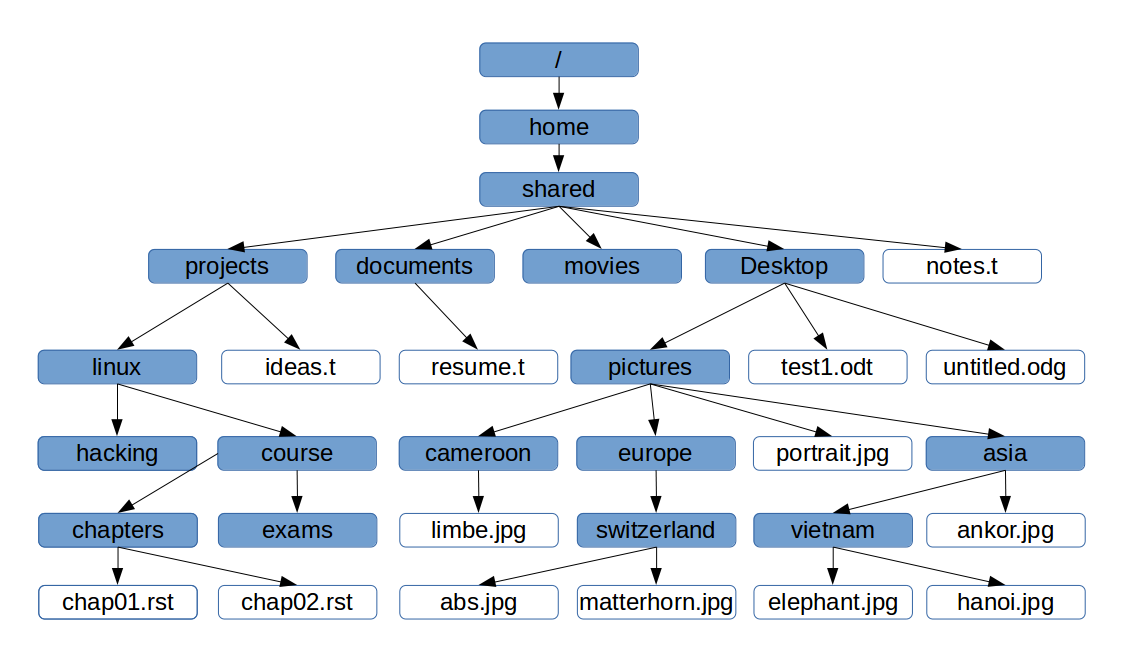 2.3. Terminal basics
In this section, you're going to make your first steps with the terminal. With the terminal, everything on the computer can be controlled. So it's an extremely powerful tool and very well suited to learn how the computer works. It will need some time to get used to it as it's purely text based. But people who got know it won't miss it.
Open the terminal through the main menu: Main Menu -> Accessories -> "LXTerminal" or "Terminal Emulator". You'll see something like the following: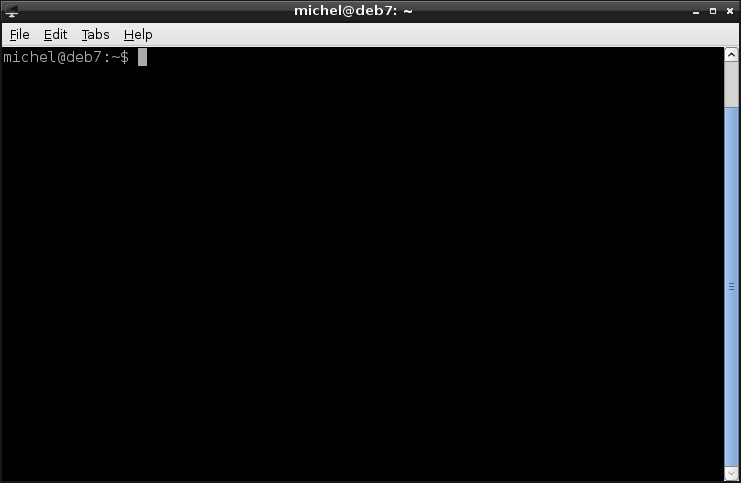 First, let's explain what you see. All the text until the dollar sign ($), so all text visible now, we call the prompt. Its first word, before the at (@) is your user name. If you started the system yourself, that's the name you entered to log in. After the at (@), until the colon (:), that's the hostname. It's basically the name of your computer. So you see two names, your own and the computer's. After the colon (:) comes a path. That's the directory you're currently residing in. In the example, you see the tilde (~). This is a placeholder for your home directory, the default starting place when you open the terminal, more about this later. Finally, you see the dollar ($) sign and a space until the grayish block. This block is called the cursor. It shows where text is put if you type something.
2.4. Terminal Cheat Sheet
| Command | Example | Description |
| --- | --- | --- |
| ls | ls / | List directory contents. |
| pwd | pwd | Show the working directory. |
| cd | cd / | Change directory. |
| exit | exit | Close the terminal. |
2.5. Cheatsheet
pwd

ls

cd

..

cd

[DIRECTORY]

cd

[PATH]

ls

[PATH]

exit